Raise your hand if you've ever heard these challenges coming from the corner office or board room:
"Why don't we have more younger (or different gender, different race, or other demographic) community members?"
"I know several people who like to (insert activity that is seemingly unrelated to your core offerings) in addition to what we all do. Why don't we market our organization to that audience?"
The answer might be as simple as: Because we don't have anything they are interested in or need.
But here's how that can change.
IF YOUR STRATEGY IS TO BE EVERYTHING TO EVERYONE, YOUR MARKETING MESSAGE WILL BE NOTHING TO NO ONE
What does your organization currently offer its community? Take a lesson from Positioning 101: What do you do (what's your value proposition), and for whom (whose need do you fill)?
What are prospects looking for when they come to you? For connection, for purpose, for access, for education? Can they easily get what you have to offer by going somewhere else, for less money or less implied obligation?
Do an honest internal audit of your benefits and programs. Would you say "yes" to affiliation with your organization?
Look at your benefits, services and programs through a wider lens. Do your homework and figure out what the potential new audience is interested in, and where they are feeding that need. Knowing this will help you determine if they need what you have to offer.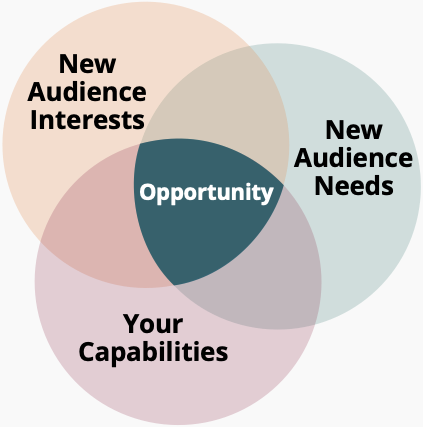 You might be considering adding a new benefit or service that you're absolutely sure will fill a need for the new audience. Review these things to consider before adding more benefits to your current offerings.
MAKE SURE YOUR NEW AUDIENCE FEELS WELCOME
You likely have an onboarding strategy and communication plan for your existing audience, but are you prepared to welcome a new audience type into your organization so they feel the same level of inclusion? Ideally your onboarding for this new group will be tailored to their specific interests so it reminds them of why they joined your community in the first place. Make them feel good about the need that you fulfilled, just like you do with your current members.
Put yourself in their shoes. If they (metaphorically) look around, will they recognize other members like themselves, interested in the same things, committed to the same passions? If your organization has been around for 100 years, has a deeply entrenched system of "this is the way we do things here," and isn't fundamentally curious, these new segments may give you a try but you will have little hope of keeping them.
One of the first brick walls you'll encounter is culture. Does your culture require that new people follow a prescribed formula or process? Do you make it easy for someone to understand, engage and connect, or is there a clique mentality? Do you have a culture that eats its young, despite what they say about wanting new blood in the organization?
Before you set out to expand your community, you may want to consider educating the core audience on what it will mean to them. Don't surprise them with "new kids" — rather bring them along for the journey as mentors, guides, and supporters.
IS THERE ROOM IN YOUR CONTENT LINEUP?
You may think you know what your core audience wants to read about. Maybe you're even doing regular readership research and have confidence in your content. If you expand your audience, consider what you'll need to do to deliver content that appeals to different segments. Your content development team will need to imagine a different reader and go outside their established comfort zones.
What will your core audience, the loyalists who have stuck with you through thick and thin, think about this content? Maybe they will embrace it as a breath of fresh air, some new thinking, and a move toward progress and inclusivity. Or will they feel like you're turning your back on them and writing about things that they don't find interesting or valuable?
Some organizations have addressed this by having multiple publications. In the end, most find that combining and having a broader voice serves the new AND the established audiences best.
WHEN YOU EXPAND YOUR TARGET AUDIENCE, YOUR METRICS WILL CHANGE AS WELL
Broaden your net for prospects and your engagement and retention metrics will shift. If you're delivering the same product to a new audience, they may not renew, participate, contribute or attend like the core constituency. You may have to work a little harder to develop messaging that resonates with these new segments (a different onboarding series, for example, or workshops at a conference lead by their peers). Even so, your full audience behavior may shift.
If you've taken all the steps to build value for these new segments, communicated clearly and persuasively, and taken care to reassure your core audience, then the adjustments in your metrics will work themselves out over time. If your prospect pools expand and your acquisition results grow along with it, you can adjust expectations and tolerate lower retention for a period of time.
CONSIDER THE RISK OF FAILING TO LOOK (THOUGHTFULLY) BEYOND WHERE YOU ARE TODAY
As an organization, you have two options: You can change nothing and continue to cater to the existing audience that's made you successful so far; or you can take some time to identify other audiences that can help fill the gaps if the existing audience does fall off for some reason. To decide what's best, you can start by asking yourself these questions:
If your organization didn't exist today, could it be launched? In other words, is there enough audience that wants what you have to offer to make it viable today?
What will your organization look like 20 years from now when the core audience is gone? If there aren't replacements just like them waiting to affiliate, you need to go through this exercise to figure out how to adapt to the world ahead.
You can want what you want. But if you're not willing to put in the work to build an appealing, welcoming "nest" for a new audience segment, you won't achieve your goals of expansion.
Is it worth it? Only you can say for sure, but our experience is "yes" as long as you don't shortcut the process of fulfilling needs, providing relevant and meaningful content, and managing the expectations of your current AND new audiences.